Amir Hootan Hashemi Speaks on Beyond at CreativeMornings Tehran
About the speaker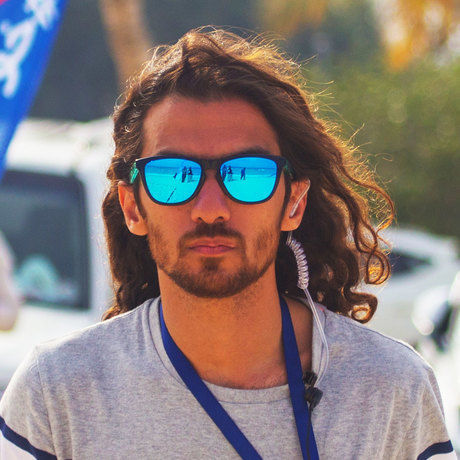 Amir Hootan Hashemi, 31 years old, graduated in industrial engineering. Beside his industrial and management activities he gathered a group of young men named The Red-line Team that do beyond expectation. A creative and happy group who travel all around Iran and capture images and videos which are incredible for their audiences to be convinced that all these pictures are taken in Iran. Amir Hootan strongly believes on this word "Nothing is quite impossible". Actually he has proved his belief by his zip-line, water-skiing, climbing, rock climbing and desert tourism activities those we have seen in his several videos and images. The Red line attitude is based on the fact that Iran can be a country to have exciting and breathtaking entertainments. Perhaps this is beyond every body's expectations that many tourist attractions which guide tourists to different countries are located in their own countries. After creative morning event which is going to be held on last Friday of April 2017 in Tehran we are sure you will take serious of this word "Noting is quite impossible".
امیر هوتن هاشمی مهندس صنایع است و ۳۱ سال سن دارد و در کنار مشاغل صنعتی و مدیریتی خود، گروهی را تاسیس کرده به نام ردلاین که این گروه فعالیتی فراتر از انتظار دارد. گروهی خلاق و شاد که سرتاسر ایران را زیر و رو می‌کنند و ویدیو‌ها و تصاویری را به ثبت می‌رسانند که باور اینکه این تصاویر متعلق به ایران است را برای مخاطبشان سخت می‌کند. امیرهوتن معتقد است «کار نشد ندارد» و به عمل هم این شعار را ثابت کرده است با تمام فعالیت‌هایی که بسیاری از ما آن را از طریق ویدیوهای متعددی از گروه او دیدیم؛ از زیپ‌لاین و اسکی روی آب گرفته تا کویرنوردی و صخره‌نوردی. دیدگاه گروه ردلاین بر این پایه است که ایران ما هم می‌تواند به راحتی جایی باشد برای تفریحات بسیار هیجان انگیز و نفس‌گیر. شاید این باور فراتز از انتظار بسیاری از افراد باشد که بسیاری از جاذبه‌های تفریحی دنیا که گردشگران زیادی را به کشورهای مختلف هدایت می‌کند همگی یک‌جا در کشور خودشان هم مهیا است. ما مطمئنیم بعد از رویداد صبح خلاق این ماه تهران، این عبارت را جدی‌تر می‌گیرید و شاید هم در کنار امیرهوتن و در تیم ردلاین جایی برای خود پیدا کردید.
Favorite quotes from this talk
No quotes yet. Sign in to tag a quote!
Photos from this talk See all
navigateleft
navigateright
107

Lovely Attendees







see everyone