Amen Jafri
October 26, 8:30am - 10:00am EDT. Hosted at Arts Court Studio
part of a series on Honesty
About the speaker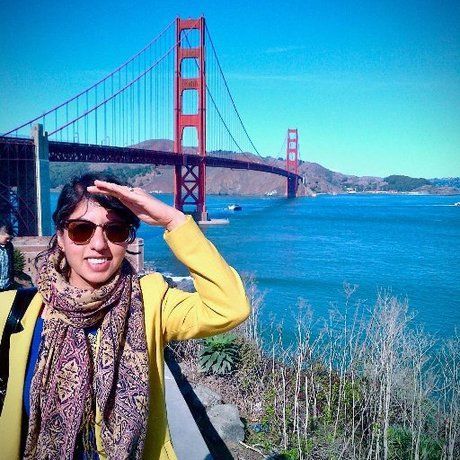 This month's speaker has spent a decade working the 9 to 5, masking her creative ambitions by day and unleashing them only by night. It was only after she became honest with herself that she decided to quit her day job and launch a new creative path, on her own terms.
In this talk, she will share why self-honesty is needed to bolster creative expression in Ottawa, as well as how it can be incorporated into how you promote and brand yourself as a creative.
Amen Jafri is a documentary filmmaker and branding consultant for artists and creatives, as well as a former public servant. Her first film, The City That Fun Forgot?, was made without any prior experience and it had a sold-out premiere in 2014, garnering local and national media coverage. Since then, her other works have been shortlisted for the TVO Short Doc Contest and screened for TVO, the American Documentary Film Festival and more. She is the creator of the seven-time nominated web series, The Secret Lives of Public Servants, and the director of Creatorland, a Wingd/Bell Media series on entrepreneurship. In 2018 she won for Best Directing in Non-Fiction at the IAWTV Awards and participated as a fellow in Hot Docs' Emerging Filmmaker Lab.
Learn more about Amen and her work on her website!
Local partners
Additional details
CreativeMornings is a monthly breakfast lecture series for the creative community with chapters in over 189 cities around the world. Each month we host an event that is always on a Friday, always in the morning, and always free. We provide coffee, a light breakfast, and a 20-30 minute presentation from a local creative person on the global CreativeMornings theme for that month.
Event Schedule:
8:30 AM - Doors open
8:30 - 9 AM - Check in, enjoy breakfast
9:00 AM - Talk begins
9:30 AM - Q&A with speaker
9:45 AM - Audience takes the stage
10:00 AM - Off to work!
Accessibility: Venue is fully accessible. If you require any additional help or have suggestions as to how we could make our events more inclusive, please give us a shout ottawa@creativemornings.com!
Directions: Once arrived at the Ottawa Art Gallery enter through the main entrance at 2 Daly Avenue. There will be city staff along with CreativeMornings volunteer there to greet + guide you to the studio. The studio can be found on the 2nd floor by taking elevator B.
Parking: Since the venue is located in the core of downtown we do suggest taking public transit. However, if you do plan to drive paid parking is available at the Novotel Hotel (corner of Daly and Nicholas), the Rideau Centre ($1.50/half hour) and at the University of Ottawa.
About the theme:
Honesty is the currency for connection. It's a gift we give to each other that strengthens bonds and deepens relationships.
Honesty is a practice where we start from the heart.
Being honest isn't always easy and being honest all of the time is impractical. Giving honest feedback or sharing our opinions requires sensitivity to the context and meeting others where they are—with kindness and empathy.
Honesty is about providing the information that you would want if you were in a similar situation.
Another way to look at honesty: it's a flower born out of the soil of trust, connection, and conversations. The more we nurture conversations that breed trust and forge a connection, the more honesty becomes baked into the way we lead our lives.
This month's global exploration of Honesty was chosen by our Cardiff chapter and illustrated by James Lewis.
Location
Hosted at Arts Court Studio
2 Daly Avenue
Ottawa, Ontario K1N 6E2
When October 26, 2018
8:30am - 10:00am