Alex Collier & Josh Smoak
– Hosted at PULP
part of a series on Sound
About the speaker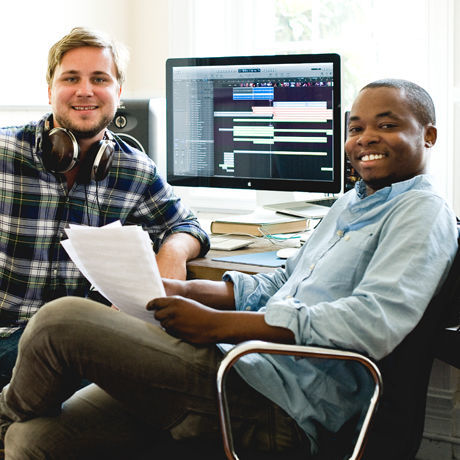 Eastward Music is a Charleston, SC based music composition studio led by Alex Admiral Collier and Joshua Smoak. With a wealth of experience, the duo produces original music for a wide range of media, specializing in long and short-form documentaries, advertising, and film.
After studying film score and production at Berklee College of Music, Collier and Smoak, returned to Charleston to launch their own agency. As the sole operators of Sunday Entertainment, they have since composed a range of diverse music with notable placements including Google, Got Milk?, Honda, Nature Valley, American Express, TOMS Shoes, Hallmark, Liberty Mutual, PGA, Quiksilver, Brita, among others.
In 2013, Collier and Smoak decided to take their passion a step further and launch their studio, Eastward Music, growing their team to include both established and emerging composers, classical and jazz musicians, vocalists, and studio owners.
While successfully launching Eastward Music, Collier met Mississippi band The Weeks on a trip to Nashville. When the band visited Charleston, a brief, albeit impressive, organ performance led to Collier not only joining, but managing the band.
March 2015 brought about Eastward Music's full-length score in Dorian Warneck's "Color of Fire," the intimate tale and unique perspective of Warneck's father grappling with his post-war life after service in the German army. The score delicately, yet deliberately carries the weight of Warneck's award-winning documentary.
Eastward Music has announced its first record release. The Holiday record is the first of many releases planned throughout the next year. Allowing Collier and Smoak to write and record outside the bounds of the commercial world, these releases bring them back to the roots of being artists and giving their compositions the freedom to be enjoyed without limits. The duo says, "of course these songs could be used commercially but we want them to be available for anyone and everyone."
twitter: @eastwardmusic instagram: @eastwardmusic FB: eastwardmusicCHS
Local partners
Counter Culture Coffee is dedicated to finding and bringing to market the most exciting and delicious coffees in the world. We approach our work with a passion for the ideal of coffee perfection, a dedication to real sustainability, and a commitment to cutting-edge education throughout the coffee chain.
Location
Hosted at PULP
535 King Street
Charleston, South Carolina United States 29403
When
–