Entrepreneur Aaron Smith shares a little about how he plans to explore creativity and the global theme "freedom" at #CMVan on May 2nd.
GoVoluntouring.com and HolidaysForHumanity.com founder Aaron Smith briefly discusses what the Vancouver audience can expect to see, hear, and learn at the May 2nd CreativeMornings event sponsored by Langara. Ticket registration is open April 28! http://creativemornings.com/talks/aaron-smith
About the speaker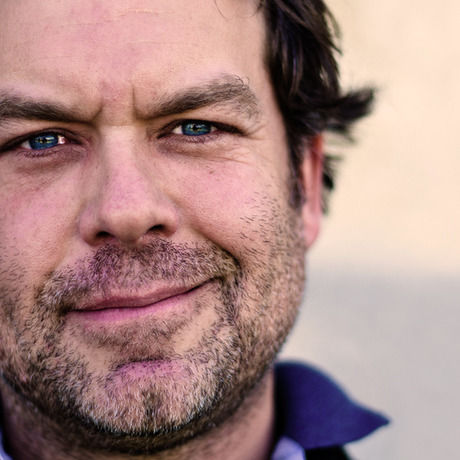 NOTE: Vancouver uses a lottery system. See below for special ticketing information.
Growing up on a fruit farm in Canada's Niagara Peninsula, Aaron Smith was taught an early appreciation for what it means to work in harmony with the land. Little did he know then that this would plant the seed of inspiration to launch GoVoluntouring many years later.
After finishing three years at George Brown, he and journeyed 4500 kilometres west to the mountains of British Columbia where he spent his first years in a hospitality management capacity, running bars and small restaurants at Silver Star Mountain, a popular ski hill in the Okanagan Valley. Looking to settle down, Smith attended British Columbia's Institute of Technology's Marketing Management program in Vancouver, and held down a full-time junior marketing position for a local company. After graduation, he accepted the role of Western Canada Marketing Manager with Flight Centre North America before he was promoted to VP Marketing for Flight Centre North America.
Following his position at Flight Centre, Smith went on to work for a collection of remote resorts in British Columbia as Director of Marketing and Operations. Concurrently, Smith enrolled in and completed the Commerce program at Royal Roads University where he graduated with distinction.
Today, Smith blends fourteen years of senior tourism management experience with a passion for community service. He has travelled extensively throughout North and Central America, Europe, Australia and East Africa. He is a multiple award-winning marketer who adds a humanistic approach to his work, and a deep network to the experiential travel industry.
As a father, and a proud East Vancouverite, Smith is excited by his latest venture that marries his training and education with his principles.
"I have been very fortunate to see many things throughout my travels. There is no denying that the exposure that has been blessed upon me has shaped much of my values," says Aaron Smith, founder of GoVoluntouring.com.
"At the same time, and as any father would, I want the best possible opportunities for my children. I believe that if we do not take action in supporting our social and biological environments, there will not be much of a future, economically or otherwise, for the next generations to enjoy as we have. I built this business, because I know we can enact positive change, perhaps not in every situation, but certainly in a great many."
Flight Centre acquired GoVoluntouring in February 2012. The collaboration takes advantage of Flight Centre's bricks and mortar retail selling strength and air expertise combined with GoVoluntouring's existing platform of world recognized volunteer and humanitarian organizations.
For Flight Centre, the investment into GoVoluntouring reinforces the company's industry leading commitment to social and environmental stewardship, and was a logical next step. Together, the two companies have begun developing an integrated site that will improve the user interface while embedding greater tools of connectivity, as well as steps towards increasing accessibility, and transparency. Smith remains at the helm of GoVoluntouring as it continues to grow and develop.
In 2013 Smith was awarded Business In Vancouver's Top 40 Under 40 Award, and was also one of BC Business magazine's Top Innovators for 2013. Smith is contributor for both the Huffington Post and the Vancouver Sun, as an expert in the purposeful travel space. He has recently launched Holidays for Humanity, an innovative attempt to emulate the organic grocer experience for the tourism community.
How do you define creativity and apply it in your career?
I define creativity as the ability to solve a problem with personal influence. For my career its been used as a tool to frame travel differently, to help transform the sector into one that is personalized, and delivered more as an experience, and less as a commodity. It's also a tool that has allowed me the opportunity to weave my personal values into core business objectives.
Where do you find your best creative inspiration?
Simple. I find the greatest creative inspiration when I'm around other mentors, or creative super-hero's that have their own distinct take on life. I don't find inspiration from a place. It's inspiration through interaction. It's from learning.
What's the one creative advice or tip you wish you'd known as a young person?
Think big. Work backwards. The road forward can be daunting if you look at all the steps ahead, but if you can project yourself to the finish line, then try to visualize the step right before the finish line, and then the step before that, you'll find that it's a far more positive look at things. This is not how we have been taught. We're taught to build up, not to tear down and take notes.
Who would you like to hear speak at CreativeMornings?
Tonio Creanza of Messors.com, Perhaps the most interesting, inspiring, and down to earth person I've ever met. He's the Italian version of the Dos Equis man, and we're lucky to have his influence in Vancouver, even if it's just for half the year.
What fact about you would surprise people?
OK, this is on the heavy side, and I don't talk about it much because I am hyper-aware that it makes most people feel uncomfortable. Regardless, I'm a child sexual abuse survivor that has battled depression most of my life. For me, every day starts with an internal pep talk on how I can live in the moment and be grateful for the friends and family around me. Some days are better thanothers, but every day is a gift and a chance to make a small amount of change.
What has been one of your biggest Aha! moments in life?
That I am constantly making myself, and that I can create a difference in the world, even if it's just a small one. As cheesy as this sounds, casting one stone really does create countless ripples.
Favorite quotes from this talk
No quotes yet. Sign in to tag a quote!
Photos from this talk See all
navigateleft
navigateright
230

Lovely Attendees








see everyone