4th Birthday Party
June 8, 5:00pm - 11:00pm EDT. Hosted at ZONE3
About the speaker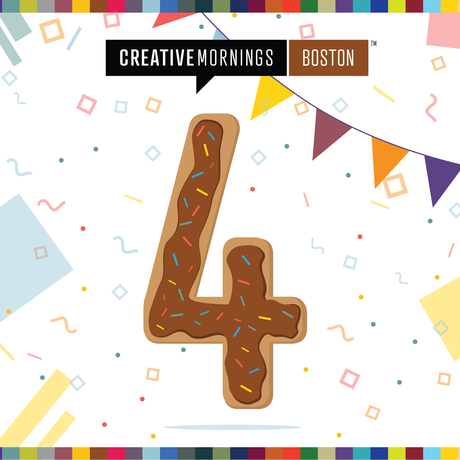 Well let's be honest… It's been a wild four years.
Who would have thought that we would go from our humble beginnings (literally begging partners for coffee and donuts), to eventually host more than 50 morning and evening events, attended by an active community of more than 5,000 Boston creatives. (Fun fact: In that time, you gloriously gluttonous guys and gals have drunk more than 7,500 cups of coffee, taken more than 3,500 Danger Booth photos, and eaten more than… well, a lot of donuts.) Our attendees have made new friends, found new jobs, started new projects, and even created some new little CM attendees of their own. The truth is, we've been blown away by how much our community has grown (both in size and in closeness) over the last 4 years. And we owe it all to you.
After four years, things are a-changing. Our former host Keith has started a new company; Sophia is taking over as our new host; and Patt is moving all the way to San Francisco.
So to celebrate, we're partnering with AERONAUT Allston to throw a huge four year birthday bash. There will be music, libations, giveaways, past speakers, and, best of all, a few hundred Boston creatives there to help us kick off another year of amazing CreativeMornings events. Best yet, it will be at night, so we can all finally turn up without fear of getting fired for missing work.
So come. Bring friends. Hang out. Enjoy yourselves. And get a little weird.
Giveaways and thank yous will happen around 5:30 PM, so be there or be square.
Local partners
Additional details
AERONAUT Allston is a summertime musical beer garden series hosted by Aeronaut Brewing Company every Wednesday and Friday night all summer long at Zone 3's hub of activity, 267 Western Ave in Allston. The series features live music and performances by emerging local artists, the best local food trucks, and great beer!
Back for it's third season, AERONAUT Allston is a free event that is open and welcoming to all. We strive to foster meaningful community connections, create a fun neighborhood gathering place, and provide a supportive platform for emerging artists and musicians from Allston and beyond. 
Bring your friends, your neighbors, your kids, and your dog, and we'll see you this summer!
Zone 3 is a Harvard-sparked initiative to further activate and energize Western Ave with creative programs, events, and retail. The hub of Zone 3 activity is at 267 Western Ave, Allston.
Aeronaut is a brewery and community space based in Union Square, Somerville. Our mission is to brew world-class beer, amplify the voice of our community, and support arts and culture.
Location
Hosted at ZONE3
267 Western Ave
Allston, Massachusetts United States
When June 8, 2018
5:00pm - 11:00pm