Janna Willoughby-Lohr is a poet, paper & book artist, entrepreneur, musician and all around creativity magnet. She has been performing poetry and music for over 20 years, and performs with her band n BloodThirsty Vegans. She currently runs her own business, Papercraft Miracles, making handmade paper and books for everyday use and special occasions. Each piece is handcrafted with love in Buffalo, NY.
Words, paper, books, love, people, sharing, rising above.
Marketing, planning, public relations, getting press, SEO, Google & social media analytics. Oh yeah, and finding more time. Who's an expert on that?
Do it because you can, not because anyone is gonna make you. If you're bored, you're not trying hard enough.
Women, because we are like scars- -we constantly hold on and rebuild. We silently leave a mark.
Making people feel empowered.
Song lyrics. How to laugh. What my mother sounded like.
How to appreciate their abilities and to use them every way they can.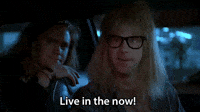 Janna's CreativeMornings activity