← Load previous
CMEdi People: Lucy Batura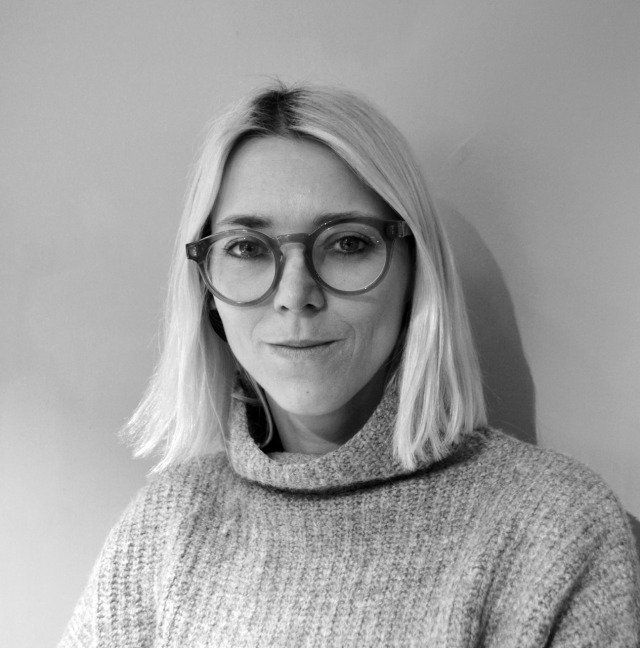 Who are you and what do you do?
My name is Lucy Batura and I'm a Contract Designer at BoConcept in Edinburgh. We are the world's most global furniture brand and have been designing, developing and producing furniture in Denmark since 1952. My role at BoConcept is to help people to create a perfect environment to grow and develop their business. I also run Polymorphics, an independent company specializing in designing and handcrafting contemporary objects. Recently I've also started We Make, a new studio/ workshop / retail space based in central Edinburgh.
Why do you come to CreativeMornings?
I've been to many CMEDI events and I really like the concept and the atmosphere, even if is early in the morning. My favourite talk so far was by Pete Thomas about 'Reality', Pete with his wife Kirsty runs Tom Pigeon, a design studio in Fife. I just love everything about their brand, and it was fantastic to hear the story behind their success.
What are you working on at the moment?
At BoConcept in Edinburgh we are developing the contract side of the business and we've started BoBreakfast, a monthly networking event for industry creatives in Scotland. We would like to provide a platform to connect with like-minded individuals, also bring the industry together, share good practice, knowledge, successes, failures and challenges. Please join us on the 1th of August! (Details and tickets here)
Who inspires you?
At the moment Greta Thunberg, I'm absolutely mind blown by her determination and commitment towards climate change. This 15years old true warrior is not only increasing awareness of global warming but empowering young people to get involve in changing their future.
Do you have any advice to share?
Working as a freelancer or in a small company can be challenging, sometimes feels like you are drifting alone on the boat towards unknown and you are terrified. It can be paralyzing and overwhelming but if you look around, they are other people feeling exactly like you! Park your boat, get out and join Creative Mornings or BoBreakfast and start chatting! About your feelings, work, dreams or a book that you just read it. I believe that sharing the experience is the best way to learn from each other and overcome the difficulties, try it!
What is something creative or cultural that you think more people should know about?
I recently went to Architecture Fringe, it's an independent, open platform for projects across the arts exploring architecture and its impact. This fantastic festival took place in June across Scotland but the exhibition in the Lighthouse in Glasgow has been extended until 31th of August, so there still chance to see it.
What's your favourite Edinburgh activity?
I love long walks around Edinburgh, so many places to visit! Recently I went with my dog to the Hermitage of Braid and Blackford Hill; fantastic views, lush greenery and so peaceful environment! Just perfect!
Check out Lucy's different projects at www.polymorphics.co.uk and www.wemakeedinburgh.co.uk
BoConcept produce and sell contemporary Danish designed furniture, accessories and lighting, and offer free interior design services. Find out more at www.boconcept.com. Find more details about the August BoBreakfast event here.
Community Minutes
Hi pals!
As anyone who's attended a CreativeMornings event knows, after the main speaker we have Community Minutes - an opportunity for anyone in our community to get up and let everyone else know about their latest project, a job vacancy, a new product, campaign or event, or anything else they feel like shouting about!
Anyone attending the event can take a Community Minute slot - they get 60 seconds to make their announcement, with a slide of their choice up on the big screen. CMEdi also posts the details of the all the announcements from Community Minutes on our social media accounts.
Time at the event is limited, so we do allocate all Community Minute slots beforehand. We only have a limited number, but we will do our best to allocate on a first-come first-served basis.
If you'd like a Minute at our July event (Friday 26th, 8.30-10.00am) please let us know by Weds 24th, - email edinburgh@creativemornings and mention 'Community Minutes' in the subject line.
You'll need to provide:
- Basic details of your announcement
- Contact details (including social media handles) we can share with the community.
- A widescreen slide image (PNG, PDF or Keynote) that can be displayed on the screen during your minute.
You'll also need to be able to attend the event at BoConcept on Rose Street!
Once we've received your email, we will be in touch in to let you know if you have a Community Minute slot, and give any further details.
As there isn't a CMEdi event this month, we're going to try a bit of an experiment.
The CreativeMornings theme for June is Wonder, and we'd like to introduce the CreativeMornings Edinburgh community to the creative wonder that is… the CreativeMornings Edinburgh community!
On the morning of Friday June 28th, when we would have been holding our event, we're going to take to Twitter to highlight some of the makers, creators, performers and artists who come to our events, using the tag #CMEdiWonders. The CMEdi community can get to know them and their projects, and hopefully their talent and passion can give everyone enough inspiration to get through another Scottish summer!
What ever you do creatively - if you're a painter, print-maker, dancer, poet or musician, make-up artist, filmmaker, designer, writer or whatever, we'd love for you to be involved. Whether it's your full-time job or you do it for the sheer pleasure, let us know about it!
We've set up a survey here for you to give us the details about you and your creative projects. If you have any questions, please contact us at edinburgh@creativemornings.com.
We'll post as many of the responses as we can between 8.30 and 10.00am on Friday June 28th - so keep an eye out for #CMEdiWonders!
Please note, we are looking to highlight individual members of our community. If your company or agency is interested in becoming one of our local partners, do get in touch!
#CMEdi Speaker Catch-up: Hazel Johnson


In Edinburgh, since 2014, the month of May has signalled a creative pilgrimage. A flocking of creatively inclined folks, forming community and reclamation at Hidden Door Arts festival. In September of last year, we had the good fortune to welcome their director, Hazel Johnson, as a speaker at CreativeMornings Edinburgh!
Fresh out of their 2018 line-up, Hazel and her team were still wiping the sweat from their brows - whilst simultaneously running an emergency campaign to secure the future of the festival. Since then, the Save Hidden Door campaign has achieved phenomenal success, thanks to donors, volunteers, and community ralliers just like you!
So, here we are, in May of 2019. The stellar Hidden Door Arts Festival 2019 line-up launched, with tickets on the go, and a whole new round of fun in store for the creative city that is our home. What better time to catch up with Hazel, reflecting on her introduction to our CMEdi community, and all of the inspiring things that have taken place since!
Photography by Suzanne Heffron 📷

Audrey: Hey everybody! Audrey here, with Hazel of Hidden Door Arts, following up on our CreativeMornings Edinburgh event last September - where Hazel was our speaker, on the theme of 'Chaos'!
So, it's been a fair few months now… 
Hazel: Yeah, a while ago now! 
Audrey: A good amount of time for many things to have happened. And, perhaps, some positive, productive reflection? 
Hazel: More chaos! 
Audrey: Oh, I bet! It's all looking great though!
So, thinking back, to the preparation for your talk - can you give us a little insight into how you went about that? 
Hazel: I had a really useful phone call with Alex (CMEdi host), talking through the theme, event, Hidden Door, and the spaces that CreativeMornings Edinburgh community create. My paid employment also gives me a lot of experience in giving lectures and presentations. So, I wasn't too phased.
The nice thing about having the opportunity to chat to Alex on the phone was that she painted a picture of what exactly it might be like, and managed my expectations of crowd size. And, even little things, like with the length of the presentation, knowing that it was ok to run over a wee bit. So, preparation wasn't too much, but just enough. To set the scene like that with me, it was really good.
I also really appreciated that training was offered. Had I wanted or needed it, the fact that that was something I could have pursued was very, very good actually.
Audrey: I'm so glad that the chat with Alex was so helpful, and that you weren't very nervous about speaking to us all.
It would be great to hear about the lectures and talks you give with your work, too. Can you give us a little insight into this experience? 
Hazel: That sounds a little bit grand! *laughter*
So, my job is with Historic Environment Scotland. In project management and policy review. There's a lot of going out and speaking, letting people know about what we're doing. Or at least there has been that element of talks over the course of the projects that we're doing. As well as facilitating workshops, and that kind of public interaction.
On top of that, I get asked to talk about Hidden Door fairly regularly. More so over the last two years. For example, I do an annual talk for students of the Festival & Events Management course at Edinburgh Napier University.
It's experiences like these that make the process of getting up in front of a very friendly bunch - which the CreativeMornings Edinburgh crowd definitely are - very easy.
Photography by Suzanne Heffron 📷 

Audrey: We were are all very excited to see you! 
Hazel: Yeah, it was great! The reception was wonderful. It was a very stimulating environment to be invited into. Lot's of interested people, and at that time in the morning there were some very interesting faces as well… everybody seemed a lot more awake than I was!
Audrey: We're always really keen - even from the queuing, on our way in!
Hazel: Oh yeah, that queue!
Audrey: It was amazing. Early risers, all so eager to see you!
Hazel: It was crazy! Awesome… Good queue CMEdi! *laughter*
Audrey: Yeah, that was pretty special! Good queue folks!
Was that at all what you were expecting? Even just in general - the people, the vibe?
Hazel: There were probably more people there than I expected, which is good!
With the vibe, I didn't know what to expect - but it was so much warmer than I could have expected. I know that sounds like quite an undefinable thing… I expected it to be a group of interesting people, but I wasn't really sure why, or how much, they would want to hear about Hidden Door. But, actually, they were all super, super interested from the word go.
The sea of faces was a very warm and receptive one, so it was all even better than I had expected. It was a particularly welcoming environment. 
Photography by Suzanne Heffron 📷
Audrey: So, that was your first time at CreativeMornings?
Hazel: It was! And with the added bonus of being able to hang-back and hang-out with members of the community, after the talk.
Audrey: Oh, that was so lovely. It meant a lot to us all!
So, looking from the outside in, before you'd been to the event, what was your impression of CreativeMornings Edinburgh?
Hazel: It was really good! I don't think you could improve the way you convey the real nature of the events and community. You facilitated enough information for me to go and look up what the event might look like. Seeing the photos of previous events, and the way that this is all connected to a much wider, international group of talks. There was a lot of great information available so I could ready myself!
Audrey: So, when you were up on that stage in that moment - you've already said that there were lots of happy, smiling faces looking back at you. How did you feel? Did you feel like you were all of a sudden part of a community?
Hazel: I would say I felt like I was speaking to a community, which I could readily become a part of when I join at more events. I absolutely intend to come to them in future!
But, the "speaking to a community" absolutely didn't change the fact that I felt welcome. I felt a part of it.
An interesting thing for me, when I'm giving a talk, is that it's almost form of performance isn't it? So, there's possibly a line drawn; but that's my own line that I'm drawing, rather than one that was drawn by somebody else, for me.
Audrey: And, now, you're not up on the stage. You're a part of the community… we feel that!
Hazel: Oh, I have made made to feel that, too. Absolutely!
Certainly, being invited to join everyone for coffee afterwards, the newsletters that I now have signed up to and get - it also helps that I work with Chloé, one of your organising team members! And Chloe is an absolute Diamond of a person!
I would definitely say it's something I feel I am now a part of. 
Photography by Suzanne Heffron 📷

Audrey: Were there any special moments during your morning with us? Perhaps even interactions or things that came about as a result that stand out to you?
Hazel: Oh yes. The interactions on the day, with yourself included. Everybody was so welcoming! Briana, Alex, and you. And, the chap on camera and audio…
Audrey: Oh, Callum!
Hazel: Yes, he was great. He had to come and hook me up for the microphone, and test. But he did it in a very natural way.
When I'm doing presentations, one thing that can freak me out is being mic'd up. Not because I don't like being amplified, it's because of the idea that I might break the equipment, or it might go wrong. Because, you can be fairly confident about what you're saying, but to roll with the punches of the technological failures is something that everybody is perhaps a bit more concerned about.
So, he made that whole process really easy. Which is nice. It might seem like a small thing, but, you know… going in, as the first thing in your morning, that was - for me - quite an important part.
Also, the coffee! Absolutely important! Then, afterwards, quite a few people stayed back to talk to me, ask questions, and chat about the content of the talk. One or two potential opportunities potentially, also, came out of it.
Overall, it's so very worthwhile. Oh, and! I got invited to do Creative Circles, about a month later. And Morvern [the organiser] was really upfront - she said "Off the back of your talk, would you mind coming and doing another talk!" She's fantastic.
Audrey: That's fab! So, would it be right to guess that you might recommend others join in at CreativeMornings?
Hazel: Yes. Hands-down, definitely. As a speaker, and more generally as part of the community. I can't wait to get more involved.
Audrey: Were there any other highlights to the experience of the morning?
Hazel: That venue was a really nice environment for taking part. In the number of times that I've been to the Fruitmarket Gallery, it was nice to go there and feel like I was actually contributing something, as well as going there and looking at all of the other amazing stuff that everyone else is always doing.
These are very important spaces, for people to go, learn, and see things. I felt like I was a part of that - on this particular morning, especially.
Audrey: That's a very interesting way of looking at it. When we do a talk in a museum or gallery, recognising that it all of a sudden becomes a contributor to the space. Not just a sense of being visitors. That's really special.
Hazel: Along with breakfast. It was amazing! Everyone was just really going for it.
Audrey: Oh yeah, those mini breakfast taco-bowls and beautiful cakes, they were flying off the tables! Thank you Homespun Kitchen!
Photography by Suzanne Heffron 📷
Hazel: There was also the ice-breaker activity. With the theme of 'Chaos', everyone took someone else's name badge, going on to either find the owner of the badge or become who they imagined them to be. That was really, really fun.
Thanks to Alex for coming up with that idea, and getting me to contribute in on it. I can imagine there's a lot of fun to be had when you create ice-breakers like that for different themes and speakers!
Audrey: Something that we see after events, related to the more personal level for individuals, is a shift in perspective. About creativity, community, and themselves. Related to that, how did you walk away feeling, after spending the morning with us?
Hazel: That's a really interesting question actually. I think I always find that preparing a talk does focus your mind slightly. Now, the theme obviously means that you're writing it with an angle, perhaps. Or, a steer. But, with what we'd just come out of with Hidden Door, has been a huge period of uncertainty - and I hadn't given a presentation or talk since the festival in May 2018. Usually I give tours and presentations during the festival, but we came out of that festival with quite a lot of debt - despite it being hugely successful. This meant we had leapt straight into fundraising, right after.
So, being able to almost press pause on that train of thought, and look over all of the previous years' successes, and challenges; all of it together was a really nice way of resetting myself, and my approach to the organisation. We've been in emergency mode. To be able to talk and, I guess, reignite my own enthusiasm for the project - that preparing of the presentation was actually quite meditative. A really good opportunity for me to stop and go "You know what? Yeah. Of course. This is why we do this." It doesn't matter that we had to go out and find funding.
Being right in the middle of the 'Save Hidden Door' fundraising campaign in September 2018, when doing the CreativeMornings Edinburgh talk, was pretty much the beginning of when we were having to sit down and figure it all out. So, it was good.
It reignited my optimism, because it felt familiar. It was nice to be able to talk about something we had been working on for 5 years, and frame it in a way that said "This is a really special and important thing to me" and, as it turns out, to a lot of other people, too.
Audrey: Quite a few members of your team came along, with you. Did that make it seem like a team day? A kind of celebration, and reflection?
Hazel: I didn't put it on them to come along, so it was incredibly lovely to have them there. Although, it did heighten my fear that I would say something wrong about their areas of expertise at Hidden Door! *laughter*
Within our team, everyone one is so skilled and dedicated, and has a lot of autonomy over the different things that they do. For example, I don't do any of the content.
But, no, it was so nice that they came along. That's one of the nice things about Hidden Door; we are very supportive of each other's endeavours. I did say to them "Please do come, by all means! But, can you sit at the back? So I don't have to look at you?" *laughter* That is one of the few things when I'm giving a talk… what will make me a little bit nervous is when there's people I know really, really well in the audience. It's the only thing that can really rattle me!
Nevertheless, a particularly lovely thing was that some of our events volunteers came along, as well as members of the core team. These were volunteers who had just done stewarding shifts at the festival, along with some people who had asked if they could be involved in future, so they could learn more about it. And, we had people come along who had worked with Hidden Door in previous years.
While I knew, with some confidence, that I'd see hands go up in the air when I asked "Who in the room knows Hidden Door, or has been to Hidden Door?", I was overwhelmed at just how many hands would go up in the air. It was lovely to see those familiar faces, and catch-up with a few folk that I hadn't seen in a while.
Audrey: It sounds like you have a fundamental understanding of that special vibe we find so hard to describe, in the context of CreativeMornings. Sure, Hidden Door has a different cycle in time, and magnitude per occurrence, but it has that 'special something'. You've done that. You've got people giving their time, and wanting to see you again.
Hazel: Yeah, absolutely. There's something that, whenever we get a new influx of volunteer stewards - there will be brand new people, but there also will be people who said "my friend can't come this year, but they said I should definitely come and do it, because they had such a good time previously." or something like that. And then, you have the people that keep coming back.
And, when you really look at it, what we're asking people to do is invigilate artwork, or steward drunk people. They get perks, and hopefully get a lot out of it. We try and work it so that they do. But, we're asking something of them, and yet they come back! I'm always just a bit like "Wow! I can't believe you're here again!", and it does remind you that people are good. People are really good!
There are people out there who just like doing something because it's a good idea. Rather than necessarily thinking "oh well, what am I going to get out of this?". Sure, they might get some free tickets, but, in the grand scheme of things, their time is so valuable. I'm always very aware and appreciative of that. 
Photography by Suzanne Heffron 📷

Audrey: Do you have any messages you would like to send out to the CreativeMornings community, local and global?
Hazel: I would love to send out my thanks. Thank you for thinking of me, inviting me to contribute to your community and space. It was such a beautiful experience.
Also, for the opportunity to shout about the work we were doing specifically around the fundraising. The awareness raising of the festival and organisation is great. It looks big and shiny from the outside, so to be able to talk people through how it actually happens - that it is all volunteer run - is no small thing. Thank you for that, as well. 
Thank you so much to Hazel for taking the time to catch-up with us, and for sharing these incredibly valuable behind-the-scenes insights!
If you're in Edinburgh between 30th May and 2nd of June, 2019, make sure to make time to head on down to Hidden Door, at Leith Theatre! There's visual art and performances, both filling and surrounding the venue, all free for you to explore. As well as a mind-blowing array of night-time performances, for which tickets are flying off the digital shelves - grab yours on their website at hiddendoorblog.org/tickets/
If you can't be there this year, cure the FOMO by following them on instagram @HiddenDoorArts, on Twitter @HiddenDoorArts, and on Facebook @HiddenDoor 📲🎨
Inclusivity & Creativity with FreeAgent: Meet the FreeAngels!

April's #CMInclusive themed event is a very special one with our friends and sponsors over at FreeAgent! Each year, the FreeAgent team raises awareness and funds for selected charities. With CCLASP being one of their charity partners for 2019, it's extra special to have the charity's founder, Valerie Simpson, speak to all of us at the CreativeMornings/EDI community! All of their charity collaborations are organised by the FreeAgent FreeAngels - a group of FreeAgent team members, dedicating some of their work hours to fundraising events and activities. Each of them combining creativity and a passion for inclusivity - in the workplace, and wider communities. 
It's a pleasure, then, to introduce Stuart McEwan. A support accountant at FreeAgent, he's a dedicated member of the FreeAngels group; described by co-workers as: 
" …an unfailing champion of FreeAgent's FreeAngels team, who organises these events for us to get together, have some fun and raise money for our charities.  He is also great at encouraging people to use their volunteering day to help out all sorts of worthy causes."
Making events, fundraising, and charity sponsorship activities happen must take a whole lot of passion and creativity. Can you tell us a little bit about what this work entails for your team?
It involves creativity, conversation, and elbow grease. Effective fundraising starts with imagination, and develops arms and legs through research on similar ideas, and the creative minds of those who involve themselves in the task. Following the dream, comes the sharing. For an event to be successful, it needs people to both shout about it, and to get involved in it. The communication and teamwork around this middle stage is paramount to its success. Lastly comes the hard graft. Even the simplest of fundraising takes time, and more hard work than was originally planned for.
What attracted you to this work? And, what's the special story behind how you came to be in the role?
After leaving university, I went straight into becoming a pre-school teacher and realised how rewarding giving back to society and helping others was. I managed to rope in (read: guilt trip) another 7 of my fellow graduates into joining me in running the Edinburgh Marathon in 2010. We raised £8,000 for Alzheimer Scotland and I took charge of organising the fundraising - and that was me hooked! When I joined FreeAgent in 2017 and found that we put forward charity runners for the marathon, I quickly offered my fundraising experience over the prior 7 years.
Stuart and his team, at the end of the 2018 Edinburgh Marathon 🏃
What aspects of these initiatives do you find the most fulfilling, and inspiring?
I think that the sense of fulfilment and inspiration comes in two main ways. The first is being able to help support people in a meaningful and significant way. Everyone has the ability to help others, and I get real satisfaction from knowing that I can directly change people's lives.
The second is watching the FreeAgent community come together. We're lucky to have an incredibly diverse workplace of staff, and when fundraising activities such as our bi-annual scavenger hunt are run, it's amazing to see individuals across different departments, genders, races, ages, disabilities, and nationalities, and their partners, come together to help raise money and awareness for the same cause.
When planning and creating these initiatives, events, and partnerships, where/what/who do you find yourself looking to for new ideas?
I genuinely believe that inspiration is everywhere, and that the more you look, the more you see. I try to explore every avenue, and never rule out anything. The internet is the greatest help, as the chances are, that if you have a good idea, it's probably been done in some way before. I'll either create an idea myself, or take inspiration from one i've seen or heard about, and then bounce it off of family, friends, and colleagues until it becomes something else. Being in regular contact with charities always helps, as they're able to provide insight into prior events that you can't know unless you've been directly involved it in.
FreeAngel's Fundraising: Fancy Dress 💃🏽 and Halloween Bake Sale 🎃 
Is there anything, or things, that make FreeAgent a special place/team/organisation to do this work in/with?
Absolutely. The diversity and inclusiveness of FreeAgent is special. Working with people from every walk of life, and from all corners of the world, enriches both the community feel, and the life experience of mixing with large numbers of people who have a completely different story to you. We're also a very forward-thinking and enterprising company, so topics such as charity and sustainability, and empowerment and equality, are always very high on the agenda.
Can you tell us about any unique/inspiring/special moments that stand out in your memory from your time doing this work with FreeAgent?
There was a moment after the 2018 Edinburgh Marathon had finished, that the FreeAgent charity runners all came together for a collective photo, and for congratulations between ourselves. It was an occasion of success and gratification. Each one of us had overcome a real challenge, and in doing so, was helping to make the world a better place. You can't buy moments like that.
The FreeAgent Team Charity Fundraising Xmas Jumper Day 🎄 
Our motto at CreativeMornings - both local and global - is "Everyone is Creative, Everyone is Welcome!". With this in mind, what inspirational words and/or advice would you give to the CreativeMornings community, and how they can also nurture their creativity?
I'm sure that there are many useful ways to nurture creativity, but the one I'd like to recommend that gets overlooked so often is volunteering. The benefits of volunteering are almost endless, and they're all likely to directly or indirectly help to improve creativity. It engages you with a wider community, opens up new potential avenues to explore, reduces stress levels, develops new physical and interpersonal skills, and broadens the human experience of being around, and helping, others.
Stuart McEwan - FreeAgent Angel, and #CMInclusive Champion 😊
One last question! Our theme this month is 'Inclusive'. What does this word mean to you, in your life, work, and creative pursuits?
Inclusivity to me, is realising and making true the fact that we can make a better 'we', by bringing together lots of different 'mes'.
My advice to anyone on this would be to surround yourself with as many people as you can that are different to you. You can't make soup when you only have water.
Cheers! 
---
Thank you so much Stuart for giving us this wonderful glimpse into life as a FreeAgent FreeAngel, and all you do. What a healthy dose of inspiration - applying and nurturing our creativity really can be done anywhere, and include everyone!  
We can't wait to see you all our next CreativeMornings/EDI event! Make sure you head on over and say hi to our friends from the FreeAgent team while you're with us this Friday morning. They really are the nicest of folks, ready and raring to conversate! 
Edinburgh is hosting the CreativeMornings Mini Euro Summit in May! This very special summit will see CreativeMornings volunteers from around the world joining us at our Friday 24th May event!
With the Creative Mornings international family descending on us in Edinburgh, we're looking for members of our community to host them on the night of Thursday 23 May.
If you have a sofa, box room, or blow-up mattress to spare, for an incredible member of the Creative Mornings family, please let us know!
Email us at cmeurosummit@gmail.com with the following details:
- Your name
- Your address
- The type of accommodation you have to offer (bed, floor, or sofa).
Thanks so much!
Edinburgh is hosting the CreativeMornings Mini Euro Summit in May! This very special summit will see CreativeMornings volunteers from around the world joining us at our Friday 24th May event! With the Creative Mornings international family descending on us in Edinburgh, we're looking for members of our community to host them on the night of Thursday 23 May. If you have a sofa, box room, or blow-up mattress to spare, for an incredible member of the Creative Mornings family, please let us know! Email us at cmeurosummit@gmail.com - with the following details: - Your name - Your address - The type of accommodation you have to offer (bed, floor, or sofa). Thanks!
Edinburgh is hosting the CreativeMornings Mini Euro Summit in May!
This very special summit will see CreativeMornings volunteers from around the world joining us at our Friday 24th May event!
We're looking for community members to host wee field trips after the main CreativeMornings event. If you've always fancied yourself a tour guide, showing similarly minded creative folk a favourite part of the city - like all of your favourite coffee spots, a tour of Edinburgh's brutalist architecture, or a walking tour of all of your favourite Edinburgh sites - the Euro Mini Summit Field Trips are for you!
If you're interested, email the following to cmeurosummit@gmail.com
The name of your tour
How many people it can include
Your name
Your contact details
Once they're all in, we'll be in touch to let you know if your tour has been selected to be offered to our Creative Mornings International family.
An Interview with March's #BrawBagel Challenge Winner - Kristina B. Royer!

Our sponsors over at Bross Bagels are pretty darned stellar when it comes to collaboration and creativity - and CreativeMornings/EDI is a community with which they let those talents and values shine! Not just bringing their dangerously delicious treats to our events, but also inviting us to bring our collective, creative talents to their menu! 
Each month, we invite you to submit your Bagel ideas, taking inspiration from the CreativeMornings global theme. The result? The #BrawBagel Challenge! Each monthly champion - hand-picked by Mama Bross herself - wins the honour of having their culinary creation featured on the Bross Bagels menu for the next month! Such delectable glory 🥨 🥇
Our #BrawBagel Champion for March 2019, inspired by the global theme of "Water", is Kristina B. Royer! 
Kristina's bagel creation features a Salt bagel, wasabi cream cheese, dried nori seaweed, pomegranate seeds, lox (or without for veggie option). 

Of course, we wouldn't want to pass up the opportunity to learn a little more about the sources of her creative genius. So, we caught up with Kristina after she received her winner's announcement. Read on for foodie inspiration, costumed legendry, and tips to spark your creative minds…
📸 Our March #BrawBagel Champion, Kristina! 
Hey Kristina, it's fab to meet you - and congrats on your wonderful creation! We'd love to learn a little more about your creative journey. The path you've taken to CreativeMornings Edinburgh, and becoming a bagel artiste…
- What first drew you to come along and join the CreativeMornings Edinburgh community?
I'm an artist and curator from Washington, DC  and had attended a CM event there. When I realized Edinburgh had a chapter, I joined the email list and started coming to events. I wanted to meet other creative types and get inspired by the talks.

- Which CMEdi event was your first? 
It was Intention with Eileen Hall at Fruitmarket, in July 2018. 
- Which CreativeMornings speaker has been your favourite - in Edinburgh, or any of our fellow 199 chapters around the world? 

Jannica Honey, who spoke at Codebase last year - her energy was amazing as was the photography project she presented. She was so honest about her own experiences, and I felt the whole audience really connected with her.
- Now, let's get to the tasty stuff - your bagel! What dishes in your dining past influenced such this sumptuous concoction? 
I love sushi and my bagel creation is basically a deconstructed suhi roll housed in a bross bagel. The wasabi cream cheese spread has some heat and coolness to it. The nori sheets offer a salty kick, and the pomegranate seeds add bursts of flavour. The way they pop reminds me of how my siblings and I would burst seaweed pods on the beach when we were kids.

- With regards to the theme of #CMWater, which elements felt the most important for the creative culinary statement you wished to make, and to the balance of flavours? 
Thinking about days spent at the beach, I wanted something that was a little salty and a little sweet. Like drinking a soda-pop or eating ice cream on the beach with the salty air all around you. 
- Have you had Bross Bagels previously? 
My husband and I have been active stalkers of all Bross bagelries since they opened. We usually haunt the Leith location because of its proximity to our home, but we're moving to Portobello next month and will probably be at the Porty location every Sunday. The Montreal is my tried and true, but I also love the vegan options when I want to switch it up. 
📸 Kristina & her husband, a.k.a. Hall & Oates 2.0! Creative Costumes for the win! 
- If you could offer the CreativeMornings Edinburgh, and Global, community one creativemessage… what would it be? 
Take yourself on a solo art-date once a week. I learned this from the Artist's Way book by Julia Cameron and it really helps get your creative juices going. On your lunch break or on a day off or a free evening, visit a gallery exhibition, go see a film, or see live music. There are tons of free arts events all over the city and by making a rule to fit one thing (outside of wherever you work) per week you connect more with the city and people around you. - Do you have any creative works you would like to share? 
Are you looking for art for your creative workspace? I can help you purchase, rent, or commission artwork by local artists. Contact me through my web site https://www.kristinabroyer.com/about 
Well, that was a wonderous, appetite building, creative ride indeed! Thank you so much Kristina! 
If you'd like to try your hand at becoming our next #BrawBagel Champion, entries for April are now open! So, get your culinary thinking caps on, get creative with this month's theme of "Inclusive", and send us your best bagel ideas - at: https://cmedi.typeform.com/to/gm7VuJ 
#CMWater With CreativeMornings Edinburgh
Our Perth chapter chose this month's exploration of Water and Sofia Varano illustrated the theme. It refreshes our bodies - in and out - upon waking, and throughout our waking hours. Diffuses the nectars of beans and leaves into the beverages that set us up for fully charged, creative days. Keeps our car, bus, and motorcycle engines cool. Maintains hydration as we walk and cycle from place, to place - enabling journeys to inspiring places, spaces, and communities. Water, the theme of March's CreativeMornings events, is - quite literally - a key ingredient in our vitality.
In keeping with this aqueous theme, you all swept in with a refreshing morning joy. Greeted by delicious Bross Bagels, and coffee from The Milkman. Oh, and… a very special, sustainable surprise in the form of stylish reusable cups, from our sponsors at FreeAgent! 
A special gift to members of the CreativeMornings Edinburgh community, the FreeAgent cups are wonderful contribution towards our goal of being 100% waste free and sustainable. If you picked one up at the event, we look forward to seeing you bring them along to all of our future events - and thank you for all of your donations! All of those coppers, coins, and notes that you deposited in the donation bucket added up to £40.02, all of which will go to the charities CCLASP and the Refugee Council!
Nourished and buzzing from the sweet energy of our monthly community reunion, we were all keen to hear from our speaker, Anna Deacon. A wild swimming photographer, what sets her apart is not just an astonishing eye for light, movement, and natural beauty; but, also, a true presence for the acts of living and connecting in the contexts in which her photography takes place. 
In September 2018, the context and community that drew Anna in was that of the Scottish wild swimmers. Meeting them around Scotland as they took their chilly dips and dives in cool wilderness waters, Anna herself became a wild swimmer - sharing in the revitalising experiences, hearing the stories of her newfound network, and capturing the rosey red cheeked smiles on their faces as the emerged from lochs, seas, rivers, and oceans. 
The photography and stories Anna shared in her talk reveal wild swimming to be something genuinely special. Nature's own healing resource, those who heed her waving, watery call are finding a new process of relief from anxiety, burnout, pain, and grief.
Ending her talk with a conversational Q&A, you all engaged with passion. Clearly inspired by Anna's wonderful talk… and, perhaps, hearing that call to wild waters, too. 
If you, like so many of us, were enthralled by the messages shared by Anna during her CreativeMornings/Edinburgh talk, be sure to follow her adventures via her blog on annadeaconphotography.co.uk, on Twitter @WildSwimmingPh1, and on Instagram @WildSwimmingPhotography. 

---
The month of #CMWater may now be over, but hopefully it's inspired you to continue your journey into new found creativity, community, and revitalisation. In the words of E.E.Cummings,  "For whatever we lose (like a you or a me), It's always our self we find in the sea."
We can't wait to see you all at our next event, all on the global theme of 'Inclusive'. May you have the good fortune to explore the global community that awaits. It's only ever just a click away… At CreativeMornings 🗺️
Credit: Event Photography by Ellie Morag. 

more
Edinburgh team




Learn more
Edinburgh community





see everyone