← Load previous
New Location: MetaHaus, Trafohalle
We are happy to announce a new location, sponsored by our friends at MetaDesign: the Trafohalle at MetaHaus. The building was constructed in 1928/29, by Hans Heinrich Müller for the power supply of the living quarters in Charlottenburg as a superior steel frame construction with red brick facade. The Trafohalle is located on the ground floor and offers 100 seats for our guests.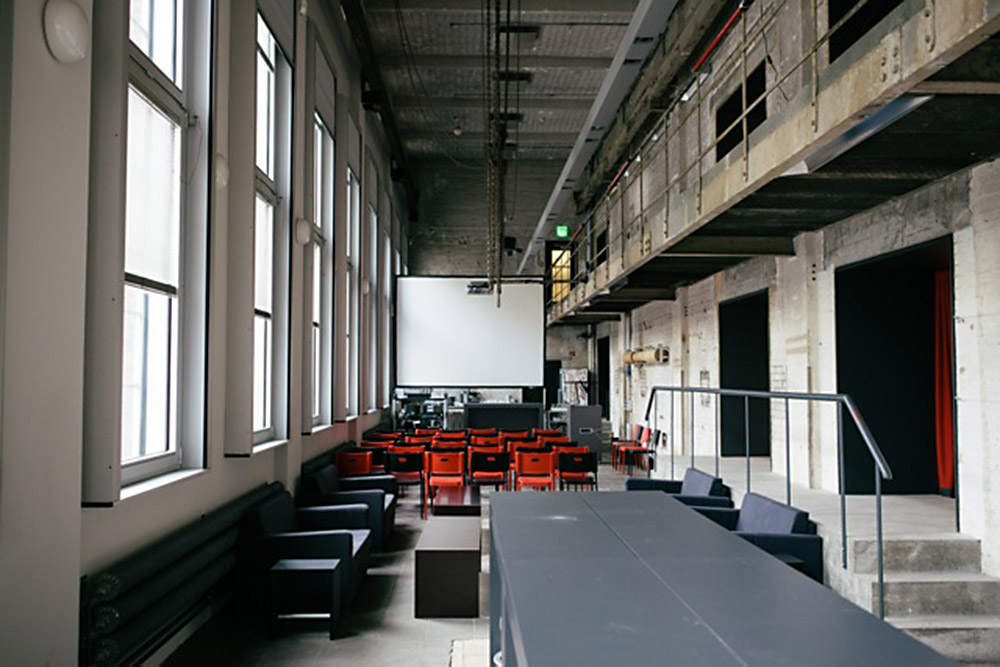 Some photos from October's Play-themed event with Ole Tillmann (PEAK) at Orangelab
Help … we're totally sold out!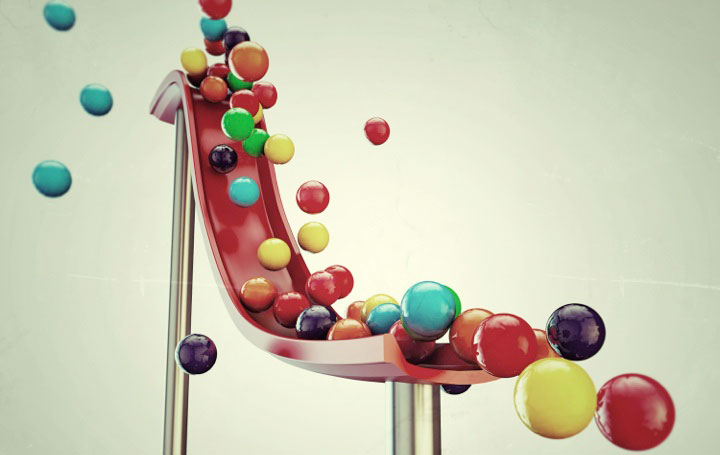 Dear friends of CreativeMornings Berlin, for the first time in our 2 y history we've recorded a 200 % ticket request. Unfortunately our space is limited to 100 seats. Fortunately, we have a super responsive and advanced website now. So: If any of the 115 registered friends can't make it this Friday, please release your ticket here for a colleague on the waiting list. Thanks.
(Images courtesy of Shutterstock)
This month is CreativeMornings' birthday: We're turning five! The anniversary will be celebrated today in New York City with a special event. Stay tuned …
Looking forward to Ole Tillmann's 'Play' talk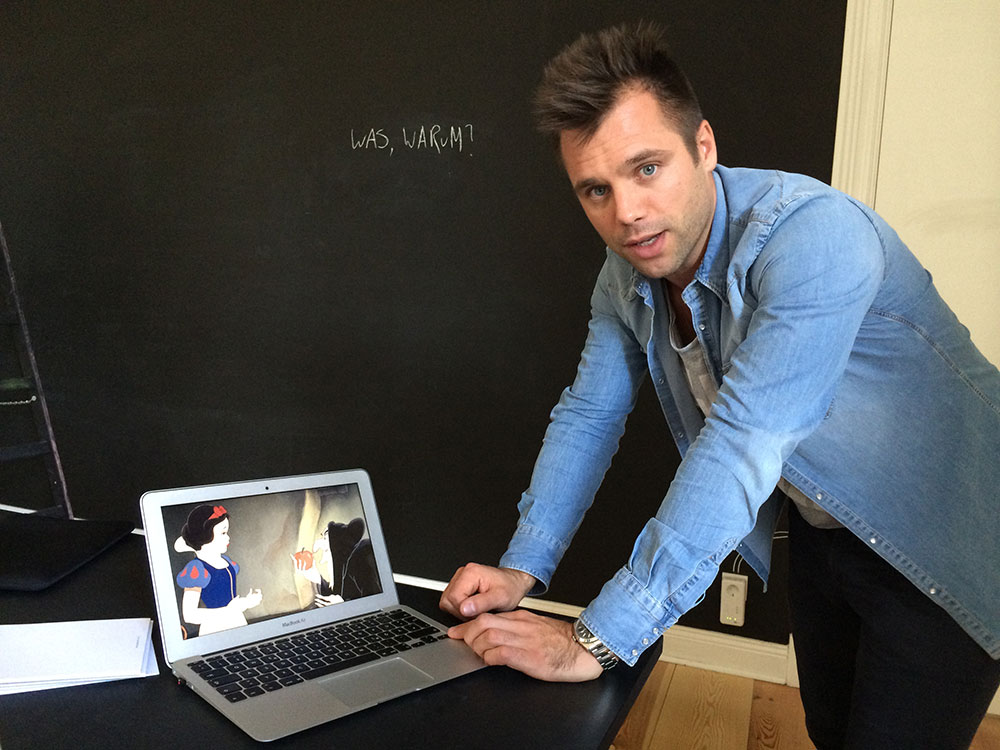 Today we've fine-tuned the (interactive) presentation of our next speaker, Ole Tillmann. He is the founder and director of PEAK, a Berlin-based agency specializing in presentation design and speaker training. As an expert on storytelling and design thinking, he will show us how this month's theme Play could be the right strategy for successful visual communication.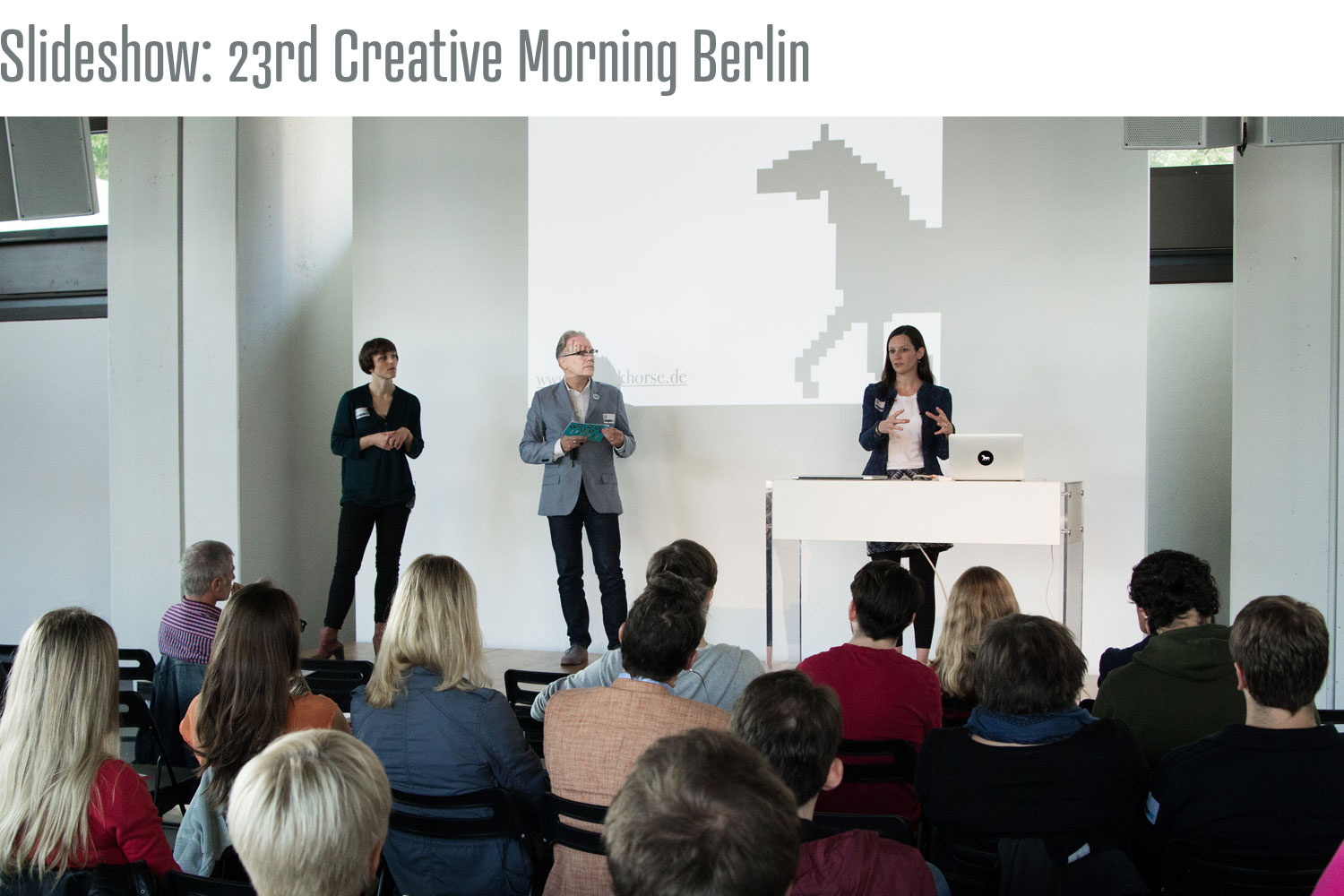 Some photos from September's Connect-themed event with Monika Frech and Lisa Zoth (from Dark Horse Innovation) at Orangelab
Shutterstock Partners with CreativeMornings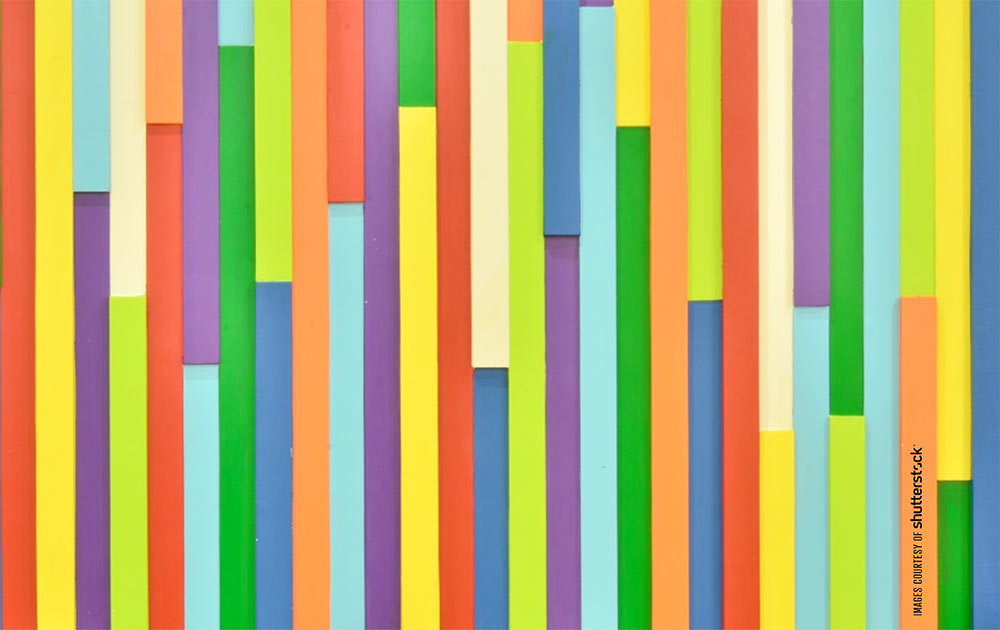 Shutterstock, Inc., a leading global provider of commercial digital imagery, today announced a partnership with CreativeMornings that will help the popular learning series expand into new cities with inspirational events for design creatives around the world.
Shutterstock will serve as the Official Partner for Visual Inspiration for CreativeMornings, which was founded by design entrepreneur Tina Roth Eisenberg and hosts free monthly events for artists in 57 cities and counting. "Having Shutterstock as one of our first global partners will enable us to launch new cities, equip hosts with exciting tools, and better serve this international community of passionate, creative people," remarked Eisenberg. "CreativeMornings wouldn't be what it is today without likeminded partners in the creative field. Shutterstock not only provides vast visual resources, they support designers and artists in their creative pursuits."
"We're thrilled to help expand CreativeMornings and support creatives from a variety of disciplines who come to be inspired, learn and connect with others in their local creative community," said Hani Hong, Shutterstock's Director of Marketing.
Shutterstock is supporting the CreativeMornings community with access to its extensive library of over 28 million images as well as sponsorship of CreativeMornings' monthly global themes, which recently included Happiness and Urbanism. The partnership adds to a list of Shutterstock brand collaborations that includes AIGA, the professional association for design in America.
(Images courtesy of Shutterstock.)
Join Our Community in 3 Steps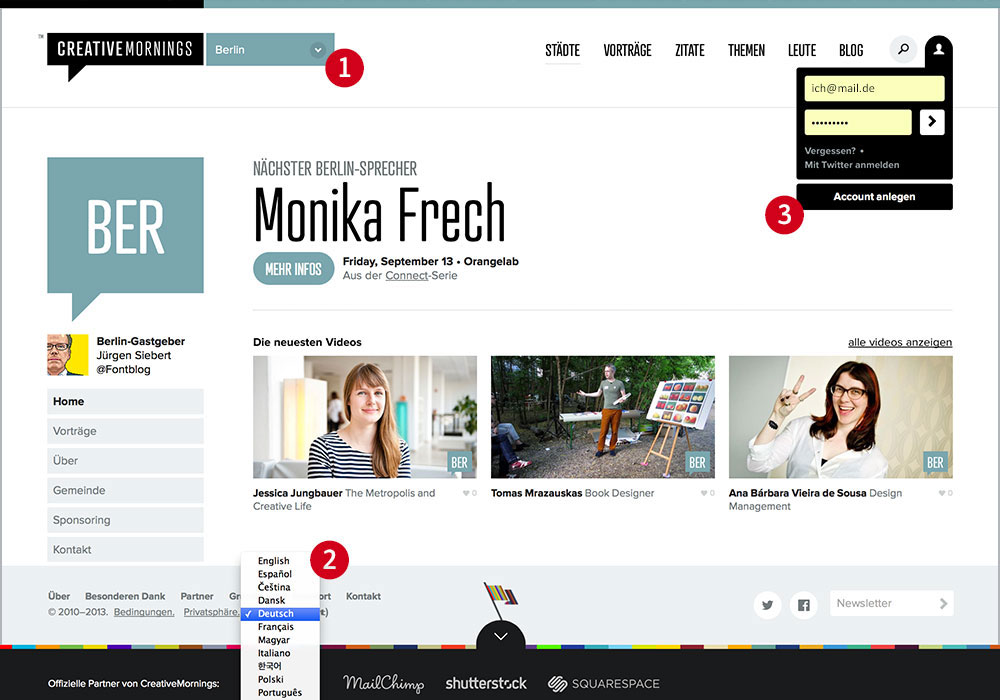 1. Navigate to your home chapter (Berlin) and bookmark its URL for future visits
2. Select your favorite navigation language (will not change speaker bios and video descriptions – all English for CreativeMornings Berlin)
3. Create your personal account to enjoy the social features of creativemornings.com, like sharing quotes, video bookmarks, likes, and much more.
New Website For Global Creative Community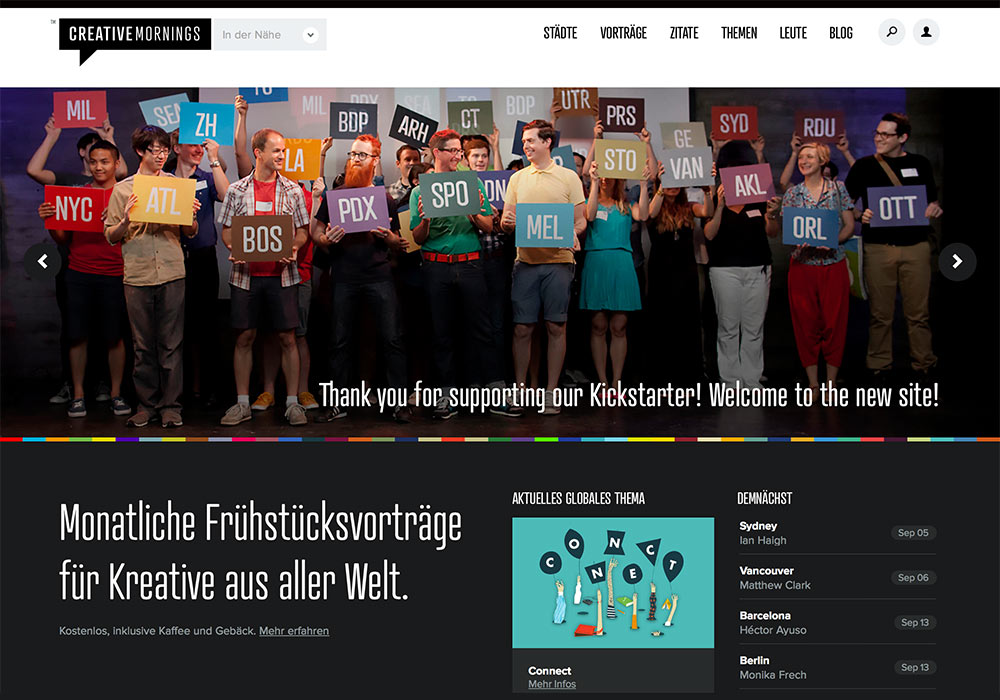 With nearly sixty chapters and a list of international speaker talent, including Milton Glaser, Seth Godin, Paddy Harrington, Thomas Schildhauer, Jessica Hische, Erik Spiekermann, and Sir John Hegarty, CreativeMornings is set to launch a brand new CreativeMornings.com, the online home for the popular morning event series.
CreativeMornings (CM) is a free, breakfast lecture series for creative people, held monthly on Friday mornings in 57 cities. The new site was made possible by the generous CreativeMornings community that contributed to CM's crowdfunding campaign on Kickstarter one year ago.
"We're excited and humbled to be launching our new site to the public today (6 September 2013). It clearly shows that CreativeMornings has turned into something so much bigger; a connected community of creative people from around the globe," said founder Tina Roth Eisenberg.
The launch also marks the announcement of CM's Official Partners: MailChimp, Shutterstock and Squarespace. These like-minded companies support the growth of CM and are a key reason why CreativeMornings can exist worldwide.
Built by Brooklyn-based Oak Studios and—in true CM spirit—translated by chapter organizers, the new website features:
A full, searchable, sortable archive of every CreativeMornings talk
Dedicated chapter sections to stay up to date with your local event
The ability to live tag quotes from a video, post comments, save talks to watch later and <3 favorite videos
A "People" section filled with attendee profiles from around the world
Translated versions of the site in 10 languages
The new site is only the beginning of a host of developments CreativeMornings has planned for 2013/14.
Quote of the week
"For some reasons Nokia decided that my typeface had too much character. I think that's a real weird thing to say that 'our brand has too much character' … 'we want to be bland'. I mean it's called brand, not bland. Whatever: They have blandified their brand." — Erik Spiekermann.
Watch the complete video …
more
Berlin team


Learn more
Berlin community






see everyone