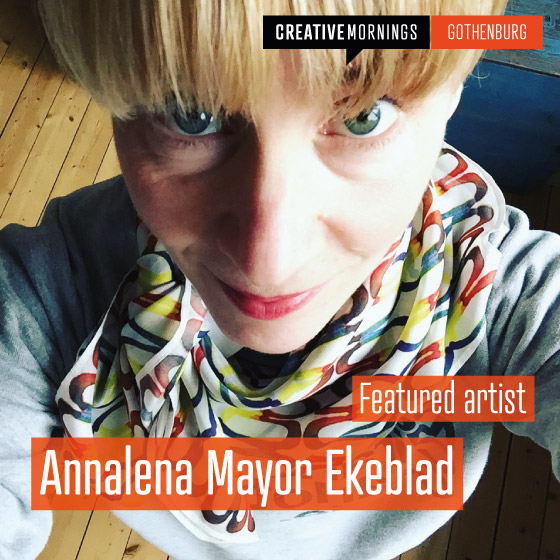 With April's CreativeMornings Gothenburg approaching fast, Christer Hedberg caught up with Annalena Mayor Ekeblad – this month's Featured Artist that will exhibit her art during our breakfast.
Who are Annalena Mayor Ekeblad? (interviewer's note: You can't beat some Swenglish as an opener in an interview, right?)
She is a crazy person! Just kidding! I am a LOT. It is kind of funny you say are and not is. People often tell me how unique it is to be very creative and very organized and good at production managing – at the same time. So ARE is good in this case. Isn't that a myth that you are either creative or organized?! Why be a dog-person or cat-person when you can just love animals?!
What does "being creative" mean to you?
Always thinking of different projects and always doing stuff. Making things with your hands. For as long as I can remember I have produced things every day. Writing something. Drawing something. Building something. And having the luxury of having other people like it and strangers buying things.
Being creative for me is to do and to produce, not just talk about it. If you make a lot, half of it can be ugly. Make a lot and some of it will be good. Some of it will be FUCKING fab!
You first caught my attention with your brilliant wood type art a few year's ago. What's the story behind them?
I fell in love with books as a child. My mother always read to me and my brother. I started writing when I was about 5 years old and I loved the shape of letters. We always went to the library and to me books were treasures. Stories. I dreamt about becoming a teacher a librarian or even a writer.
I stumbled over the wood letters in an antique shop. People were buying them as decoration and they were really expensive. I became obsessed with the thought of finding a whole alphabet so Ingrid at "Antique Unique" in Linnéstaden started helping me find old types. Then I just started putting acrylic paint on them, handprinting words and making patterns.
When I was a teenager my grandmother Elsa Mayor – a supercool American lady – took me to MOMA in San Francisco. I remember seeing huge paintings with printed letters on them.
When I started making the "text paintings" I wrote cute things. Love, happiness and so on and people liked that. My main focus was to write/paint beautiful patterns made from letters and words. So the pattern was my focus. It was a bonus that some people could read what I actually wrote. Then I was invited to hang the text-paintings on the walls of Björns Bar, just for fun. A week past and I sold out! They rang me from the bar and said: You need to make more. People loved them. They drank wine, ate cheese and bought my paintings from the waitresses. It was madness and happiness som I just kept making them and selling them. The text-paintings gave me the courage to quit my day-job (as a production manager at Nudie Jeans) and focus 100% on my own art.
I never made "önsketavlor" where people could tell me what to write on them. I only made my own texts.
In the back of my head I always dreamt about writing darker things on the paintings. But since people loved the happy-love stuff I was to afraid to break the winning concept. Until now. My "Om jag ligger helt stilla och håller andan" project has forced me to start showing people my "darker, sadder texts". The next step is to doing paintings with the same kind of words on them. The exhibition at CreativeMornings will be the premier for this.
I've had the chance to see your exhibition at Rum för papper and found it to be really powerful. Can you share the story behind the project?
To keep sane, or even, to survive severe illness you have to play games with your mind. Or at least that is what I did.
Last year I had to go through two large operations and spend a lot of time at the hospital. For a long time I was in pain, the kind of pain you can't run away from but the kind that hurts even when the doctors put a tap with morfine directly into your spine. Maybe it was the mix of pain and morfine, or just the way my brain works, but I started making up stories and scenarios to get by. Like: If this was an American movie, there would be a happy ending. You can not be in this much pain and not get a happy ending.
For me painting and creating have always been healing. When you get absorbed in creative work you don't feel pain, hunger or time, you just paint. So I started painting small squares. I was too tired and sick to go to my studio so I just used watercolor. It is quick and easy and you can do it in bed, on the floor or even standing up. I started making little circles and forms with watercolor. Then I scanned them into my computer and started twisting them, turning them, duplicating them – making them into patterns.
Then it just hit me – this is my happy ending! I will make patterns and then make the patterns into cards, notebooks, fabric, silk scarfs and so on. And then I will sell these patterns and become famous. This is my happy ending!
So what's next in this project?
This project will keep on growing. I am hoping the Nordiska Akvarellmuseet in Skärhamn will let me show my work in their beautiful location some day. And there's more to come! Sp keep an eye on this project because my patterns are definitely going places.
Let's round up with five quick questions. First one – what inspires you?
Everything and anything. Books. Libraries. Looking out of the window from an airplane. And I love to look at the pattern on the ground… And the mix (and luxury) of living smack in the middle of this town and having a small summerhous in the woods. It's inspiring to start the day in the city and ending it in the woods…
What makes you happy?
I am so thankful for all I have. I am happy for having friends. Family. For being alive. Having a family and my DOG. I wake up happy.
Name something you love, and why.
I love coffee. It's my drug. Not only is it good, it's very much related to happy feelings. Sitting in the sun drinking coffee on an early morning.
What superpower would you like to have and why?
I have a superpower. My look! I am a small. Almost tiny woman. Not ugly not beautiful. I do not, at all, look like the way I feel on the inside. Perfect! I get away with anything!
People see me and associate me with… nothing. And then I just BOOOM surprise them with MEEEEEE!
And finally. What's the best piece of advice you've been given?
That is the best part of having an english-speaking grandmother. For real! She actually gave me advice like: When life gives you lemons. Make lemonade! She also said: Well – it must be noon somewhere. When she had the first sip of ice cold vermouth at 10 in the morning…
Don't miss Annalena's exhibition at CreativeMornings Gothenburg on April 28!
Gothenburg community







see everyone