Volunteer Spotlights!
CreativeMornings/Baltimore is run on an engine of generosity. Our free, monthly events wouldn't be possible without our all-volunteer team. Learn more about our team, what they're working on and passionate about! If you're interested in volunteering, please complete this form: http://bit.ly/CMBalVolunteer
CM/Bal's free, monthly events will be back January 2020!
Photo: @wzhouphoto

Jon Daisey
Jon Daisey joined the CM/Bal team this summer. You've seen him behind the camera helping capture both video and still photos at our monthly events. By day he does sports photography and film processing.
What do you love about Baltimore's Creative Communities?
The fascinating places to visit and photograph!

What are you passionate about?
Photography and free coffee!


Taylor Jade Powell
Taylor Jade Powell  came to a "MUSE" w/ Kyle Yearwood back in June and signed up to be a volunteer that same day! Outside of CM she is a writer at a creative advertising agency, enjoys listening to a lot of books, going to the movies, and getting to know the city. Do you have an audio book recommendation for her or a Baltimore gem she should know about?
What do you love about Baltimore's Creative Communities? 
Baltimore's creative communities have reignited my passions to create. When your job doesn't always provide that fulfillment, spaces like Creative Mornings help me to fight creative fatigue and burnout. I've met some amazing people and learned some life lessons that will help me in my career. I will never forget the first CM talk I went to and talked to Kyle Yearwood afterword. It just a 10 minute chat, he helped me gain the confidence to pick up the camera I was allowing to collect dust. I became a volunteer that same day.
What are you passionate about?
I'm passionate about people and their stories. With a background in journalism and music production, I like to think of myself as a multimedia storyteller. I think stories can move people. They can rally people behind a cause. They can inspire understanding. They can give a voice to the voiceless. As crazy as it may sound, I think a good story can create real change. So I'm passionate about telling them. I am also passionate about family, mental health, my emotional support animal Chance (second photo), getting Trump out of office, and music.
📸: Schaun Champion, @fluffypostcards

Steve Cavaselis
Steve joined the CM/Bal team this past Summer. Steve started as many of our volunteers start (including the co-organizers!) by showing up each month as a CreativeMornings attendee and then wanting to get more involved! Now you'll find him setting up chairs, jenga-ing everything into a car at the end of the event, greeting you with a smile as you arrive, or at @dwatkinsworld talk he was probably trying to take a photo with you holding up the CM/Bal sign! 
What do you love about Baltimore's Creative Communities?
The opportunity to experience different types of art in different mediums wherever you look; it's a magical convergence for the senses.
Amanda DiGiondomenico
Amanda has become our resident graphic recorder, creating incredible illustrations of our speaker's talks. Outside of CM she is a freelance graphic designer & illustrator. She has co-founded Baltimore Letters (@baltimoreletters). Baltimore Letters has regular meetups where they talk, draw, and "generally geek out over lettering." Peep their IG for upcoming events, and tag #baltimoreletters so they can share your work!
What do you love about Baltimore's Creative Communities?
I love how resilient Baltimore is, and connecting with the city's creative community is an amazing reminder of how vibrant our city is.
What are you passionate about?
I'm passionate about my illustration work, and currently, I'm really into drawing maps, but I also love drawing women and lettering. Even more than that, though, I'm passionate about being an entrepreneur, and I absolutely love talking to other small business owners about how they do it.
Maria Goodson
Maria joined the team back in June. Outside of helping you take your photo in the @pixilated Photo Booth each month, she runs a monthly reading series called Writers & Words (@writersandwords) that features four writers each month, one in fiction, non-fiction, poetry, and the genre-defying "wild card" category which in the past has included a playwright, a scientist, and a children's book author (and everything in between). The next Writers & Words is Tuesday, December 10th, 7 p.m. at Charmington's, 2601 Howard St, 21218, featuring Jalynn Harris, Khadijah Z. Ali Coleman, Neda Toloui-Semnani, & Marco Rafalà! 
What do you love about Baltimore's Creative Communities?
The people! Baltimore is full of Doers, people who are not just amazing at coming up with great ideas, but who actually go out there and make it happen! I'm constantly inspired by Baltimore's creative communities.
What are you passionate about?
Reading and writing and getting things done. Beyond that, I love nothing more than making cool stuff with other people, and connecting cool people to one another to do the same.
📷: Nina Subin
Kate Reed Petty
Kate joined the CM/Bal team in June. Outside of wrangling with the green screen setting for the photo booth each month, she is a writer with her first novel "True Story" debuting next year on August 4! Find it at your favorite local bookstore: http://bit.ly/CMKateBook
What do you love about Baltimore's Creative Communities?
This is such an amazingly supportive place to be a creative person. People in Baltimore show up for each other, and I'm always humbled and inspired—just seeing the energy at Creative Mornings events, it's better than caffeine.  
What are you passionate about?
Storytelling!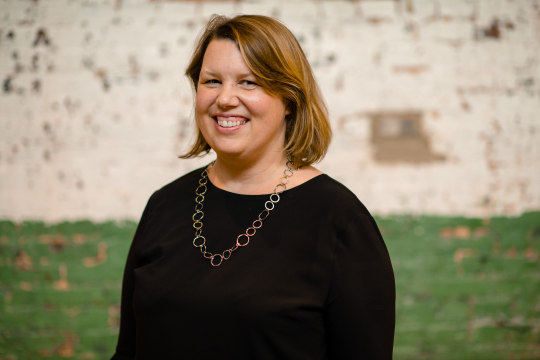 Patti Provance
Outside of CM/Bal she builds networks of donors who care about Baltimore and the surrounding counties at the United Way of Central Maryland. Patti is also involved with WoW, Women of the World Festival. The free event centers gender equality and  takes place on Saturday March 7th.  
What do you love about Baltimore's Creative Communities?
I love that Baltimore's talent takes so many different forms and I love how people show up for each other.  One of my favorite things about Creative Mornings is coming to see someone talk that I don't know very much about and then seeing all the people who do and are just pouring love on the speaker.  Its really incredible to watch and experience.
What are you passionate about?
Building a better world for and by women and girls, Baltimore, discovering new creative outlets.  Ask me about my garden :)
Sabina Besra
Sabina joined us early this year and has been greeting you as you arrive and getting you checked in each month! Outside of CM/Bal, she is the Graphic Designer at Howard Hughes Medical Institute. She's always looking for camping buddies to share adventures with. She has her eye on Yellowstone + Grand Teton Early September 2020 and Everglades + Dry Tortugas + Biscayne in Late December 2020. Get in touch!
What do you love about Baltimore's Creative Communities?
My favorite thing about the Baltimore creative community is how friendly and welcoming everyone is, this includes everyone from my fellow volunteers to the event attendees and even the vendors.  I love that CreativeMornings/Baltimore holds true to its core value of making everyone feel like they belong, especially a quirky/clumsy/goofball like me. I'm also constantly inspired by the amazing talents and stories that this city brings out.
What are you passionate about?
I'm passionate about design and its ability to tell stories and make people feel a certain way when words are not enough. I also love to travel in my pastime because I believe this world is filled with incredible views and even more amazing history. My favorite way to explore is through hiking and camping trips, which I've had the enjoyable opportunity to do in 13 National Parks so far.
Baltimore community








see everyone