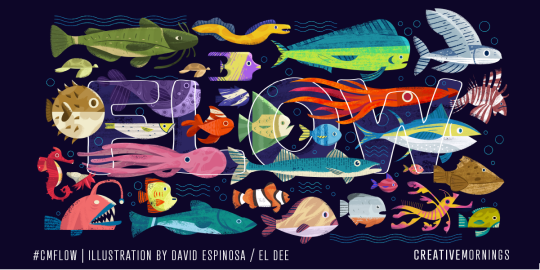 If you want to get in touch with any of our community members below, email london [ at ] creativemornings.com and we'll connect you.

1/ Theo
Videographer for HIRE!!!

2/ Ric Baldock
Surfers Against Sewage: sas.org.uk, marine conservation charity working to protect our oceans. 

3/ Nina Rubesa
Video podcast production & distribution company looking for new clients + looking for companies who are innovating in how they empower their employees to be happier at work 

4/ Veronica Melkonian
WE MAKE MUSIC - for brands, agencies, filmmakers and techmakers across TV, film, ads, apps, content and more. Also always great to meet composers and producers - particularly from diverse backgrounds!! 

5/ Uslan
Looking for someone with commercial interior design exp (could be exhibition/architec /fit out) for a clinet. Also lookinf for an exhibition space in East London for amazing group art show next year

6/ Natalja
Looking for business and individuals that work for social or environmental good, also people form underrepresented communities, to do some graphic design for! 

7/ Gabby
I'm looking for a new side hustle/a new fun creative project and people to collaborate and make great stuff together with. 

8/ Joy
I organise a jam night called Imaginary Millions at the book club in Shoreditch. free entry, good music, good vibes. Everyone is welcome to share. No sign up sheet. No expectations. No judgement. Next one's November 3rd

9/ Ketishia 
Today was my first ever Creative Mornings! I'm a photographer, content creator and hula-hoop teacher! I'm coming to the end of my contact at my current job in creative communications (it literally finishes today), so I'm now looking to collaborate with creatives on new stuff. I will be launching my blog next month around music, art and ethical/sustainable fashion. Let me know if you want to work together! 

10/ Annat
Introducing flow, creativity and relaxation with LegoSeriousPlay workshop
Offering a pilot lunchtime workshop for employees to get immersed in lego explore creativity and RELAX. Last week in November and first week in December
Thank you
London community







see everyone